Tetbury Rocking Horses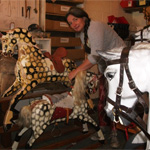 Bea. I helped Steve with the making of his first rocking horse in Birmingham in 1983-84. After five children and years of working as a carpenter, tiler, decorator, plumber and general maintenance, I re-joined Steve and became a rocking horse maker again at Tetbury Rocking Horse Works.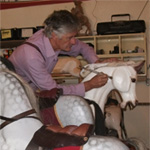 Steve. My carving career began in my childhood, carving figures of my favourite cricket player, Ted Dexter. Later an engineer and boat builder by trade, I have worked with wood ever since. When my best friend's first child was born, nearly thirty years ago, I made and carved my first rocking horse. It proved so popular that I made more to satisfy demand. I started in a friend's garage in Selwyn road, Edgbaston, Birmingham then, after a couple of years carving from a narrow boat, moved to Shropshire then finally, to our Stroud workshop.
Our workshop is situated at The Workshop Southfield Rd (Selsley Rd end).
Workshop: