Tetbury Rocking Horse Sizes

Printable document to show our price list
We offer four sizes of rocking horse:
Size A - Height 39" (102cm) - Length 54" (137cm)
Size B - Height 46" (117cm) - Length 60" (152cm)
Size C - Height 52" (132cm) - Length 66" (168cm)
Size D - Height 60" (152cm) - Length 72" (183cm)
Height measured from floor to ears. As all horses are unique, sizes are a guide only and may vary slightly.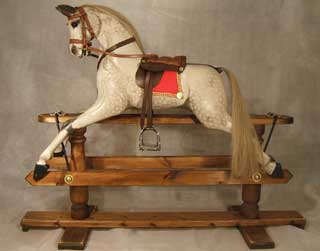 Delivery charges for new horses
To ensure the horse arrives safely, the horses are delivered by Steve or Bea in person.
FREE DELIVERY TO: Berkshire Dorset Glamorgan Gloucestershire Monmouthshire Oxfordshire Somerset Warwickshire Witshire West Midlands Worcestershire
£45 DELIVERY TO: Bedfordshire Brecknochshire Buckinghamshire Carmanthenshire Derbyshire Devon Hampshire Hertfordshire Huntingdonshire Leicestershire Montgomeryshire Northamptonshire Nottinghamshire Radnorshire Staffordshire
£75 DELIVERY TO: Anglesey Caernarfonshire Cambridgeshire Cardiganshire Cheshire Cornwall Denbighshire Essex Flintshire Kent Lancashire Lincolnshire Merioneth Middlesex Norfolk Pembrokshire Suffolk Surrey Sussex Yorkshire
Sometimes, we may have more than one horse to deliver in an area. We then split the delivery cost between customers.
For other areas please contact us.
We freight rocking horses, rocking zebras and rocking unicorns abroad. Please give us your zip code for shipping quotes.