Restoration and Repair at Tetbury Rocking Horse Works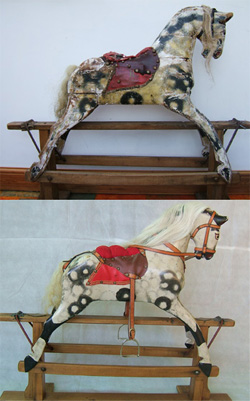 Very often, people have inherited or have lived their entire life with a rocking horse. Apart from lots of memories, not much is known about the maker or age of the rocking horse. We can help you identify your rocking horse over the phone or with a few e-mailed pictures.
The main areas to look at and take a good quality snap of are:
1. The whole rocking horse
2. The head, profile
3. The stand particularly the posts sometimes the rails
4. Any label, plaque etc on the top shelf of the stand
5. The swing iron bracket
6. Swing irons colour
7. How the swing irons(bars) are fitted in the rails
8. The saddle, type of materials used, colour etc
9. The harness
10. The leather work around the tail
11. Brass work such as rosettes/medals
12. Legs, hooves and fetlocks
Rocking Horse Restoration
Since 1986, we have been restoring vintage wooden rocking horses and ensuring that customers' valued antique horses brought to us for restoration, will be beautifully, sympathetically and authentically restored. Restoration should be considered carefully. Little is often better. A poor restoration can devalue your rocking horse.
Authenticity is so important especially if you wish to maintain the value of your horse. Collectors dislike over-restored horses, even more so, a poorly done restoration.
Your antique rocking horse may be intended for children to ride, therefore has to be safe. Stirrup leathers must be secure, saddles must have no loose pins and the horse should not wobble on the stand.
These points can be rectified without appreciably changing the nature of the horse and do not cost much.
But rocking horses, today, are children's toys, albeit snapshots from our past. Children are impressed by newness and colour. A rocking horse fully and sympathetically restored still maintains its charm and enthrals its new riders. After all, the Victorians knew how to impress children with their rocking horses!
Tetbury Rocking Horse Works are aware that our restoration prices are not the cheapest in the country. But bearing in mind the significance of restoration work, quality and authenticity is paramount. Be assured that your rocking horse will receive all the necessary care to return him to his former glory
Our many years of experience enable us to offer a simple pricing structure to our customers. These fees will not rise should we discover your horse is more poorly than first diagnosed.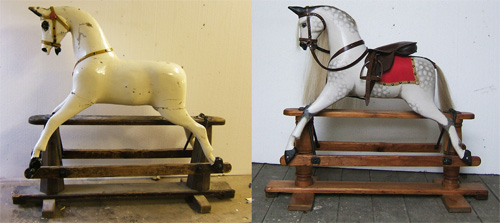 BEFORE. Example of Lines Sportyboy unrestored. This rocking horse came to us with very few original parts of the stand.
AFTER. The Sportyboy restored with extra filled-in saddle to allow for many more joyous rides.
Points to consider and what we do
PAINTWORK. Sometimes covered in white gloss paint, the paintwork on your horse may be original. It may be in very poor condition but restorable. Bear in mind that such paintwork restoration can be a lot dearer than redoing the whole paintwork.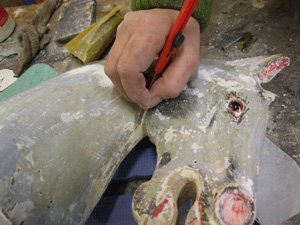 Carefully removing gloss paint to reveal an original
paint work on a Ayres rocking horse
We can advise on the best option for your horse and the cost.
We always paint the horse in its original style unless specified by the customer who, for sentimental reasons, may want to keep the style of painting used by great uncle Josh in 1976.
A complete repaint involves a number of procedures:
Your rocking horse is de-tacked and all components, down to the smallest pin, are kept in a box labelled with your name and restoration number.
We remove all loose paint undercoats, and flaking gesso.
Horses can only be painted when all the woodwork joints are secure. We carry out any necessary repairs. Sometimes it is discovered that more work than originally anticipated needs doing to your horse. We simply do the necessary work at no extra charge.
When we are happy that all the woodwork is secured, the next step is a coat of gesso. This, when sanded, gives the horse a beautifully smooth, even finish unto which we apply the first sealant/undercoat. Subsequent undercoats and sanding is carried on until the artist gives her consent for the next step, dappling.
Hand applied dappling enhances the beauty of your horse.
Much attention is given to you horses face and expression. See our many photos.
We then apply many layers of varnish. Your horse is now ready for tacking.
HAIR
There may be a complete mane and tail on your horse or nothing at all; sometimes there may be a length of furry material, wool strands, rope or other remains, none of which are original of course. Sometimes, customers, unaware that an earlier restoration had changed things, are convinced of the originality. We ascertain this authenticity and advise accordingly.
Horse hair was not exclusively used; cows' tails were quite common on some makes.
We have a wide choice of colours.
EYES
Glass eyes were commonly used but pins or even just paint sometimes did as eyes. The type and colour of glass used varied. Because eyes often fell out, over the lifetime of a rocking horse, they got changed. Earlier rocking horses had clear glass eyes with colour paint on the back.
SADDLE, BRIDLE, LEATHERWORK AND STIRRUPS
Each manufacturer produced their own style and had preferences over colours and material used, from plastic to leather, bright red to tan. Having identified your make of horse we refer to our extensive collection of original saddle patterns and produce a perfect replica of the original saddle.
Does your horse have pommel holes? These are two holes on each side of the saddle into which a pommel was located for side saddle riding.
STAND
Often loose and wobbly, sometimes wood wormed, sometimes rotten beyond use.
The stand is taken apart and examined for wear and wood worm infestation. It is treated and repaired accordingly. Where there is excessive wear, new parts may have to be made; typically, new spigots are made.
If the stand requires a full refurbishment, all the finish is stripped and new finish applied.
New bearings are fitted and adjustment of the bearing caps are made, this is to ensure a smooth, wobble-free ride.
SYMPATHETIC CARE
Even a full restoration is done with a view to maintaining an authentic look to your horse. There is restoration and there is careful, sympathetic restoration. We always take your request on board and offer our professional opinion.
This sometimes means keeping, repairing or even copying granddads' carefully crafted saddle, even if not authentic.
At the end of the day, this is your horse and you must be happy with it.
Rocking Horse Repair
Tetbury horses are more than happy to repair your broken rocking horses, no matter how small the job. Typically a mane may have become loose or lost; this can be matched and replaced. An example of price would be £80 for a new mane. A missing eye would cost £5 to replace.
We undertake any project, from granddad's unfinished rocking horse to fine antique rocking horses. Once, a customer arrived with a horse in bits in a fertilizer sack. All he wanted was for it to be glued back together so his kids could ride the horse out in the barn. Cost £150. Our customer came back two days later and took his horse home very pleased.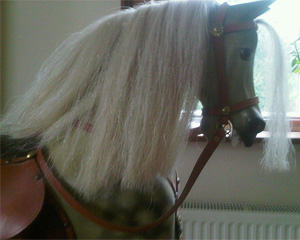 Allan's Horse
Send a restoration enquiry message
Please send an enquiry about any restoration work you require.
To protect your privacy, we are not able to see your email address in our inbox and will not be able to reply to your query unless your email address is written in the box below. If you would rather not send your email address via this contact form, please ring on 01453 873 853, 01453 764 903 or 07717 47 21 29 Thank you.